Porridge with Blueberry Compote
Top high-fibre porridge oats with creamy Greek yogurt and healthy blueberries – buy frozen to help cut the cost of this filling breakfast.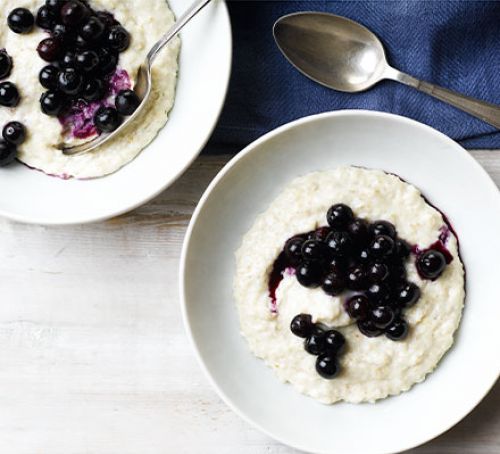 Preparation time: 15 minutes
Cooking time : 5 minutes
Difficulty : Easy
Serves : 2
• Healthy
• Vegetarian
Nutrition:per serving
• Kcal 168
• Fat 2g
• Saturates 1g
• Carbs 24g
• Sugars 9g
• Fibre 5g
• Protein 9g
• Salt 0g
Ingredients
• 6 tbsp porridge oats
• Just under ½ x 200ml tub 0% fat Greek-style yogurt
• ½ x 350g pack frozen blueberries
• 1 tsp honey(optional)
Method
1. Put the oats in a non-stick pan with 400ml water and cook over the heat, stirring occasionally for about 2 minutes until thickened. Remove from the heat and add a third of the yogurt.
2. Meanwhile, tip the blueberries into a pan with 1 tbsp water and the honey if using and gently poach until the blueberries have thawed and they are tender, but still holding their shape.
3. Spoon the porridge into bowls, top with the remaining yogurt and spoon over the blueberries.
Recipe from Good Food magazine, (Feb 2015)